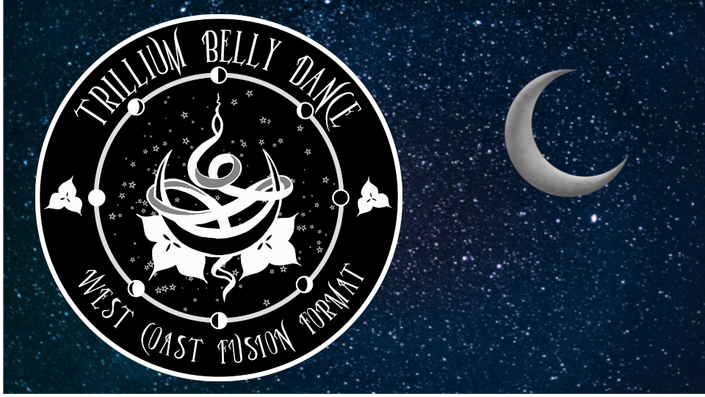 Crescent Moon: West Coast Fusion Format Level 1
A Comprehensive and Interactive Belly Dance Certification Program
Watch Promo
Hi! Welcome to Trillium Belly Dance - West Coast Fusion Format Level 1: Crescent Moon. I am pretty excited about the course I have created to give you all the tools you need for high quality belly dance training. Please read this page all the way through before you enroll. Hope to be dancing with you soon!
Happy Dancing,
Faelan Shiva
www.TrilliumBellyDance.com
What is Trillium Belly Dance - West Coast Fusion Format?
Trillium Belly Dance is a format designed by Faelan Shiva for training in and performing belly dance, West Coast Fusion style. The West Coast of the United States has birthed a very distinct flavor of American belly dance, influenced by the dances of the Middle East, North Africa, and the Balkans; fused with Flamenco, Cabaret, Tribal, and depending on the artist, Hip Hop, Jazz, Contemporary and/or Ballet.
Trillium Belly Dance offers a unique format with a variety of training and conditioning options that address dancers' different goals, body types, learning and movement styles as well as navigating physical challenges, such as injuries or health conditions. Faelan believes that dance belongs to everybody and is passionate about making high quality belly dance education and training available to everyone who seeks it.
The full 4 courses of the West Coast Fusion Format will include topics such as belly dance movement and technique, vocabulary, intelligent conditioning, myofascial release, basic anatomy, finger cymbals and musicality; belly dance history and influences; performance and expression; developing body awareness and mindfulness, and more!
Certification will be available in 4 levels upon completion of the course requirements and testing. The four levels are Crescent Moon, Half Moon, Gibbous Moon and Full Moon, reflecting how inspiration, creative energy and skill will build through the format.
Crescent Moon focuses on identifying your goals as a dancer; learning foundational movement, broad strokes in history and anatomy, developing a personal practice, vintage vocabulary, basic Arabic rhythms; introducing the practice of finger cymbals; and experiencing the JOY of dance.
Half Moon will focus on technique, layering, history, odd metered rhythms, dancing with finger cymbal compositions, modern fusion and creating your own basic choreographies.
Gibbous Moon will focus on developing yourself as an artist. Who are you as a dancer? What inspires you to dance? How can you take the tools you've been developing and create an expression that is your Path With Heart? We will continue to develop the technique and skills from Half Moon as we experiment to find our true voices.
Full Moon - A teacher training. Teaching requires an entirely different skill set than dancing or performing requires. We will go in depth with how to create growth mindset, how to break down movement to others, safety and avoiding injury, responsible classroom ethics, as well as look at other resources to keep us growing as movers and teachers. This is not learning to teach a format. It is learning how to communicate clearly, understand your students' needs, create an encouraging learning environment and share the joy of belly dance with others.
Waning and Dark Moon - part of creation is rest, creative block and sometimes even burnout. These subjects will be addressed in each of the 4 courses.
Registration Details:

Full access to the Crescent Moon course is open now!
There are 3 payment options:
Purchase the full course for $495
3 monthly payments of $190
6 monthly payments of $105
What does my Crescent Moon Tuition Include?

The Crescent Moon program includes:
*Homework assignments designed to prepare you for success and to begin or continue your belly dance education.
*A live stream one-on-one intake with Faelan to go over your goals, challenges and general guidance for working with the program.
*Up to 4 private live stream sessions with Faelan to check on progress, ask questions and check in on your work with the program.
*Access to over 32 hours of instructional videos in belly dance, musicality, finger cymbals, conditioning and choreography. Access is granted for one year.
*The TB:WCFF Ebook (a study guide and manual)
*Access to the TB:WCFF private FaceBook group to build our community and to ask questions.
Who is this training designed for?
Crescent Moon is designed for everyone. Faelan has particularly catered this level to the true beginner, hobbyist and those who seek to shoot for the stars but need a flexible schedule, need to address health or injury challenges or have scheduling limitations and can benefit from the unique flexible schedule provided in this online training. Half, Gibbous and Full Moon are designed for the serious hobbyist or aspiring professional.
What are my requirements to complete the program?
*Complete the homework assignments
*Schedule an intake interview with Faelan (included in course fees)
*Complete the instructional videos.
*Complete any assignments given in the course.
*Learn and be prepared to demonstrate the Crescent Moon choreography (included in the course)
*Take notes in your journal throughout the course (more info given after registration)
*Because not everyone will want to test for certification, the testing is optional. A $45 testing fee is due when testing is scheduled. Testing will include a written exam and a practical exam live stream session. Those who pass the test will be awarded a certificate and an invitation to move on to level 2: Half Moon.
Note: Faelan has designed this program based on the 5 Day intensive format, with 6 hours of dance per day. However, you can go at whatever pace you like and have one year to complete the program. All of the classes are designed to create an adjustable training schedule. Extensions for special circumstances considered.
Do I need to purchase supplies?
If you don't already own the following items, you will need to acquire them to successfully complete the program:

Required items:
The assigned homework book (expensive or out of print books have been avoided)
A journal for your dance work
A SOFT 36" foam roller
A soft massage ball or tennis ball
Finger Cymbals
Recommended items:
A yoga mat (2 if you have sensitive knees or elbows)
A mirror to observe your movements

Optional items:
Small hand weights or resistance bands (but we can improvise!)

Purchasing option links provided on registration.

Why do I need an intake interview?

Online and recorded classes are a wonderful resource, but nothing beats the camaraderie and connection that develop in one-on-one classes. At Faelan's Boulder Creek studio most of the students are regulars. They've become like family. She doesn't want to make a faceless program that you complete x,y, and z and get a generic certificate.
The intake interview meets these two important aspects:

*To assess your goals, to consider any injury or health challenges that should be taken into account, and to offer guidance in any modifications or recommendations to tailor the program to you.
*To establish a rapport and encourage asking questions throughout the program.

When do I schedule my one-on-one assessments?
This is entirely up to you. You may like to finish the course in a month and use just one or two assessments. You may like to take the entire year and schedule your assessments every 3 months, or whenever you hit a considerable snag in the material. There will also be a students only Facebook group for asking general and simple questions.
Faelan will not award certification to anyone who does not demonstrate a reasonable understanding and execution of the material. These assessments will give you a chance to ask questions and help Faelan make sure you are on the road to success. She wants you to have a firm grip on the material and technique before you schedule that test.
Anything else I need to know?
There are no refunds on course fees.
Your Instructor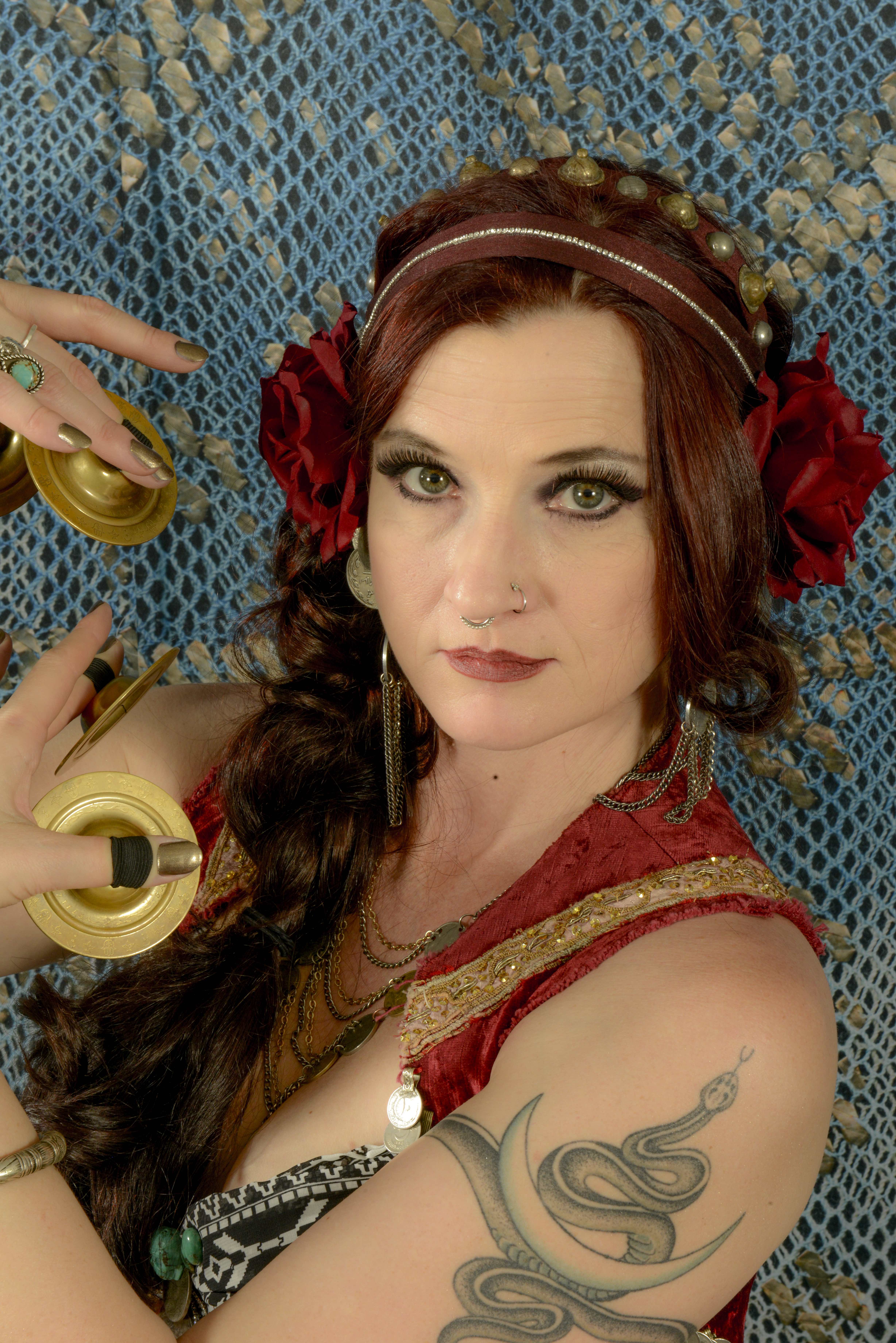 Faelan is passionate about teaching high quality belly dance. She excels in clear breakdowns, understanding of safe body mechanics, avoiding injury, and meeting students needs with personalized guidance.
She is a performer, director and choreographer and has performed with some of the greats, such as The House of Tarot, Beats Antique and Stellamara. She was a member of Zoe Jakes' Coven Dance Company for 4 years and a member of Arcana Music and Dance at the Northern California Renaissance Faire as a dancer and percussionist for 3 years. She currently performs with her Santa Cruz troupe, Satinka; as a dancer, percussionist and vocalist with the Feldthouse Family Band; and as a soloist across the US and UK.
She is certified in the following programs and trainings:
Practitioner of the 8 Elements of Belly Dance, Datura Style Teacher, Hot Pot ITS Level 1 Instructor, ACE certified Group Fitness Instructor, Fitour Myofascial Release Instructor and Hatha Yoga Teacher. She studies and trains in dance and movement in order to distill that knowledge and experience into comprehensive and easy to follow classes.

She teaches studio and live stream weekly classes. More info can be found at TrilliumBellyDance.com
Course Curriculum
New Moon: Preparation
Available in days
days after you enroll
Crescent Moon: Part 1
Available in days
days after you enroll
Crescent Moon: Part 2
Available in days
days after you enroll
Frequently Asked Questions
When does the course start and finish?
The course is open for enrollment now. Once you register, you will have immediate access to the course content and have one year to complete the program. Extensions are possible in some cases.
How long do I have access to the course?
After enrolling, you have one year to complete the course.
What if I get stuck and need live feedback?
One on one assessments are part of the program and are available via live stream. An initial intake interview and 4 private lesson/assessments are included in the course fees.
TESTIMONIALS
About this program:
Faelan's motto throughout this program is 'Dance Forever!', and it echoes in all of the sections of the Level 1 curriculum. From the fundamental foundations to the nitty-gritty technique studies, there is a clear emphasis on practicing in a way that is supportive for one's own body. This is the first class series in which I have felt able to modify for the health of my ankles, which pronate naturally and can cause discomfort while balancing, turning, or shimmying on my toes. Faelan is ready to give one-on-one feedback and assist with modifications whenever needed.
The WCFF style is best described as deeply rooted, beautiful, and graceful, with a hint of daring and sass. All of the vintage vocabulary that we cover in Level 1 has a history to which we must give credit, and Faelan is happy to share and pass on this lineage. Many of the technique studies are also "compatible" or closely related to those found in other formats. This means "less files" to hold onto in one's brain, and less confusion. Yay!
The biggest lesson I have learned so far with Faelan is that proper warm-ups, cool-downs, and conditioning sequences are a MUST. I have learned soooooooooooooo much about healthy stretches, myofascial release exercises, and proper posture! These are gifts that I wholeheartedly feel must be shared with the dance world!
As a music major in school, I guess you could say that musicality is usually a strong suit for me. That being said, my zil work has been nothing to brag about. I also lacked the ability to identify the rhythms that are most essential to bellydance. Faelan offers several lessons that focus on musicality, rhythm studies, and dancing with finger cymbals. Thanks to her, I feel much more accomplished in these (former) areas of struggle.
To sum it all up, WCFF Crescent Moon is a comprehensive program that allows you to study at your own pace, in the comfort of your home studio. I have not felt this motivated, healthy, and happy in my dance practice in quite a while, and I am so glad that this path of study exists. Thank you, Faelan, for all that you do!"
- Roxanne Cargill, California
Studio classes:
"I have been dancing my whole life and Faelan 's energy, vibrance and teaching methods definitely make her stand out to me as one of my favorite teachers. What makes her stand out beyond her amazing sense of humor, is that she's so studied on many various forms of belly dance... What really helps on a physical level is her understanding of the body from years of teaching yoga. Her motto is, "let's dance forever!" And she can provide you help with that through teaching you helpful body mechanics on top of the moves. She's truly incredible!!"
- Mimi Clark, Scotts Valley, CA
"I've been belly dancing American Cabaret for about 5 years, and recently decided to give Tribal Fusion a try. I heard about Faelan Shiva from a friend, and decided to give her a try, even though it meant an hour commute each way to her class. I have now been taking her classes exclusively, for about 3 months, and I AM IMPRESSED!!! She brings a level of safety and understanding to the technique of belly dance that I have never experienced before! I am learning so much about how my body moves, and how to execute even simple hip shimmies without damaging my lower back. Faelan has a delightful, smooth and thrilling dance style ... She is great at teaching moves, and layering them into an impromptu combo at the end of the class to make it fun to put what you learned into action and actually DANCE!!!! Also she is a warm, caring person who makes her classes inviting and a haven and coven for her students."
- Rachelle Daniels, Monterey, CA
"If you are looking for a teacher who strikes that balance between elegance and drive, Faelan is your champion. You can put full trust in her ability to educate beyond the basics. With great sensitivity to both the beginner and the student looking for challenge, Faelan delivers extensive vocabulary and clear explanation on how to execute proper technique. She fully recognizes the ray of individuals taking in her guidance and tempers her instruction with great care and mindfulness. Her balance of pushing while embracing is accomplished with great fluidity. She is a legitimate, educated and very affable person. I highly recommend giving yourself the gift of being a student of her teaching."
- Lalainia Blenio, Boulder Creek, CA
Testimonials about live stream classes:
"Being able to still dance with you live stream since moving has meant so much to me! If anything it's better than normal class, I rarely get feedback like you give me on live stream. That is invaluable to my progression to better my skills." Michelle Hays - Seattle, WA
"I am thankful for modern technology that allows me to take a live class with amazing belly dance teachers that are several hours away! Thank you so much, Faelan Shiva! That was AWESOME." Roxy Roxstar - Bakersfield, CA
"Wow that was fun! I just took my first streaming live dance class with Faelan Shiva, all the way from the Santa Cruz mountains. A true highlight was dancing Improvisational Tribal Style (ITS Unmata style) with the group--I even got to lead the stagger! A 300 mile distance can't stop the Magic of ITS! She'll be live streaming many more classes, and it was an amazing learning experience complete with feedback. Thanks Faelan ! " Robyn Vandiver- Weed, CA
This course is closed for enrollment.